Oulu Dance Hack is an annual research and performance event that is organised by TaikaBox and
Oulu University of Applied Sciences
(OAMK) to bring together art, industry and education in a unique way. Artists travel from all over the world to spend a week in Northern Finland, together creating new work that integrates dance and technology. Local industries contribute their products to the project, giving artists unique opportunities to work with new technologies and adapt them to a performance context.
The teams are augmented by dance and media students from OAMK, who work alongside the professional artists, gaining valuable experience.
The first three Hacks have been hosted in the EduLAB and Dance Department at OAMK, with support from JoJo – Oulu Dance Centre, Finnish Cultural Foundation, BusinessOulu, Probot, Haltian, Delicode, Museum and Science Centre Luuppi, Playsign, smARTplaces – European audience development network, Berlin-based software company Troikatronix, eTOPIA – Spanish Art And Science Centre and Kulttuurivoimala – Culture Power Station. Some of the visiting artists have been supported by STEP travel grants from the ECF.
Oulu Dance Hack 19 will be hosted at City Dance and Oulu Museum of Art.
OULU DANCE HACK 2019 will take place from 18th - 24th November and, for the first time, is incorporated into LUMO - Oulu Light Festival. We are inviting dance artists, programmers, media artists, performers, musicians, directors, film-makers - anybody who is interested in finding out more about the relationship between dance and technology.
This year's theme is LIGHT and we will be spending a week together to experiment with lighting technology in a dance context, resulting in a series of installations and short performances shared with audiences as part of LUMO19.
Monday 18th November will be a one-day workshop on creating simple interactive systems with the TaikaBox toolkit - Kinect, MYO, LeapMotion & Isadora. We will be joined by a selection of media and dance students from OAMK for 3 days of group work in the studios at City Dance on 19th, 20th & 21st, before moving across town to Oulu Museum of Art on 22nd. We host an open studio session for delegates from the LUCI City Under Microscope conference in the afternoon, and then present our work as part of LUMO Festival in the evenings of 22nd, 23rd and 24th.
OULU DANCE HACK is a unique opportunity to engage with technology in a performance context, connect with artists from across the globe and perform to thousands of visitors at Oulu Light Festival. This year the Dancehackers will be experimenting with equipment provided by C2 Smartlight, Greenled and Flexbright.
This year, Oulu Dance Hack is supported by Business Oulu and a grant from the Jenny and Antti Wihuri Foundation.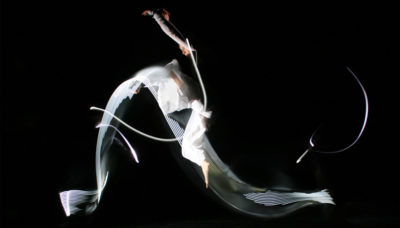 We are very excited to welcome a team of incredible artists to Oulu this Winter. OULU DANCE HACK 2019 takes…
DANCE/TECH Mini Hack at Oulu Game LAB on 25/03/19 A one-day creative space for dance artists, musicians, media artists, performers, etc. TaikaBox…