Born Old is a 35 minute performance made specifically for children aged 4-10 and their families. It is based on some of the stories from the Finnish epic poem Kalevala, and is performed by Marjo Kiukaanniemi who uses storytelling, song, dance and projection to tell of the adventures of the shamanic musician Vainamoinen, reimagined to deliver an environmental message.
The original research for the project was funded by a CreaDemo grant from AVEK, with support from OAMK and Valve. The production has been co-produced by JoJo - Oulu Dance Centre with a grant from Taike - The Arts Promotion Centre Finland.
The show is currently available to tour. There are two versions: Original Finnish text and the two-performer Norwegian version that we produced for DanseFestival Barents, with Swedish and Faroese versions in the pipeline for 2020/21.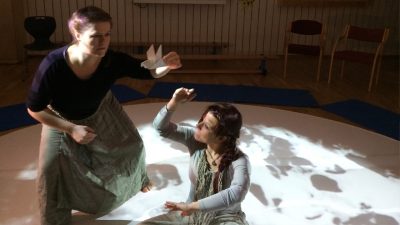 During DanseFestival Barents in November 2018, we took Born Old to Mylingen Barnehage and worked with Norwegian performer Gro Skanke…
In early November we are travelling up to Hammerfest on the North coast of Norway to present Born Old as…